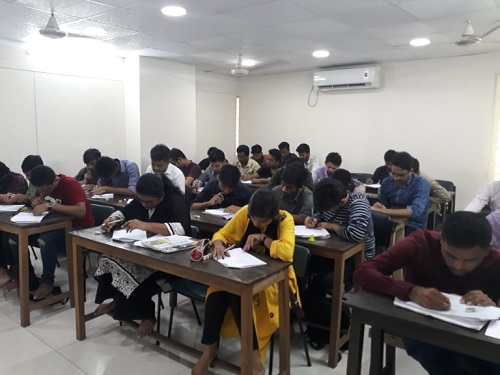 Class at the JUAAB Japanese Language School
Languages open doors to the new world. The Japanese Language is an important language in today's world. At present, more and more people seem to be learning Japanese in order to know more about Japan which is the second biggest economic power in the world.
In Bangladesh, more and more students are now looking for Japanese Universities for their higher studies and research. The economic and trade ties between Bangladesh and Japan are also getting stronger day by day resulting into more interactions between the businessmen of these two countries. The exchange of cultural programs between our two countries is also increasing gradually.
In the light of the above developments, JUAAB has been offering Japanese Language Courses of various durations with the help of native teachers from Japan. At present, the courses are:
Special Conversation course of 1-3 months, duration for the "MEXT Scholarship Awardees" before their departure for Japan for April and October sessions.

Conversation Course of 3 months duration (one after another) for anybody interested to learn Japanese.

Comprehensive Japanese Language Course of six month duration (January - June) and (June - November) for those who would like to study deeper and to sit for JLPT (Japanese Language Proficiency Test) examinations in Bangladesh.This course will continue for further one year for the examinees of higher levels of JLPT.
In all of the above course, the students have the opportunity to know about the life and culture in Japan. The courses are also supported by a rich collection of Japanese text books and reference books, video films and other audio-visual teaching aids.
In April 2009, the Japan Foundation has recognized our JUAAB Japanese Language School and has given it the membership of "Sakura Network" for a period of five years. This has definitely enhanced the prestige of improve the quality of our courses.
JUAAB is an association formed in September 2000, by Bangladeshi nationals who have earned academic degrees from Japanese institutions. The association, aims to promote exchange of academic, scientific, technological and cultural activities between Bangladesh and Japan.
---
Eligibility
Anybody having HSC or equivalent qualification is eligible for admission to any course of JUAAB Japanese Language School.
Class Size
The class size is always limited to 30 students (on first-come-first-serve basis) in order to get a high level of teacher-student interaction.
Class Hours
For all courses, the classes are held 3 days a week, normally in the late afternoon/evening/morning for two hours.
---
Admission and Course Fee
For admission to a course, the filled in application from along with a photo and the course fee have to be submitted to JUAAB office at least before one month of the starting of the course. The levels of the course fee (including the teaching materials) are as follows at present:
Admission and Materials fees:
Long Course (6 months) Tk. 20,000/-
Short Course (3 months): Tk. 10,000/-
Payment system: Pay total amount at the time of admission
Required Paper: Photocpopy of Passport/NID/Birth Certificate
---
Certification
On completion of each course, Certificates are awarded to the successful participants by JUAAB.
Venue
JUAAB Office
Dispatching Teachers to Company/Industry
Being requested by a company/industry, JUAAB has the system of dispatching Japanese Language Teacher(s) to conduct in-house courses for the employees on mutually agreed terms & conditions.
Conducting JLPT
Being authorized by the Japan Foundation (through the Embassy of Japan in Bangladesh), JUAAB conducts JLPT (Japanese Language Proficiency Test) in the month July and December every year. Participants from all Japanese Language School in Bangladesh take part in this test.
---
Other Specialities
-Highly experienced native teachers from Japan and experienced Bangladeshi teachers are conducting the courses.
-Students have the access to library facilities, internet browsing .
-The students willing to go to Japan for higher studies can get counseling from the Embassy's Education adviser sitting at the JUAAB Office.
-The students can also attend the "Education Seminars" organized from time to time jointly by JUAAB and the Embassy of Japan in Bangladesh.
-The students can enjoy the most congenial air-conditioned environment.